Why Attend?
High-Level Connections /
Challengers on each Pursuit are a curated group of owners and director-level visionaries, allowing you to build relationships with a global mix of the world's very best high-end suppliers and buyers.
Game-Changing Insights /
Remove yourself from the day-to-day, while being immersed into a perception-altering setting, to spark creative thinking and collaborative solutions that will give your business a competitive edge. 100% of previous Challengers agree that attending was good for their business and would recommend Pursuits to another senior person within their company or the industry.
New Ways of Thinking /
Every Challenger brings a topic to the table, to be debated in an open environment that's all about unlocking the very best ideas from the industry's finest minds. We also invite two mentors from outside the industry to host expert workshops designed to generate invaluable insights and drive your business forward.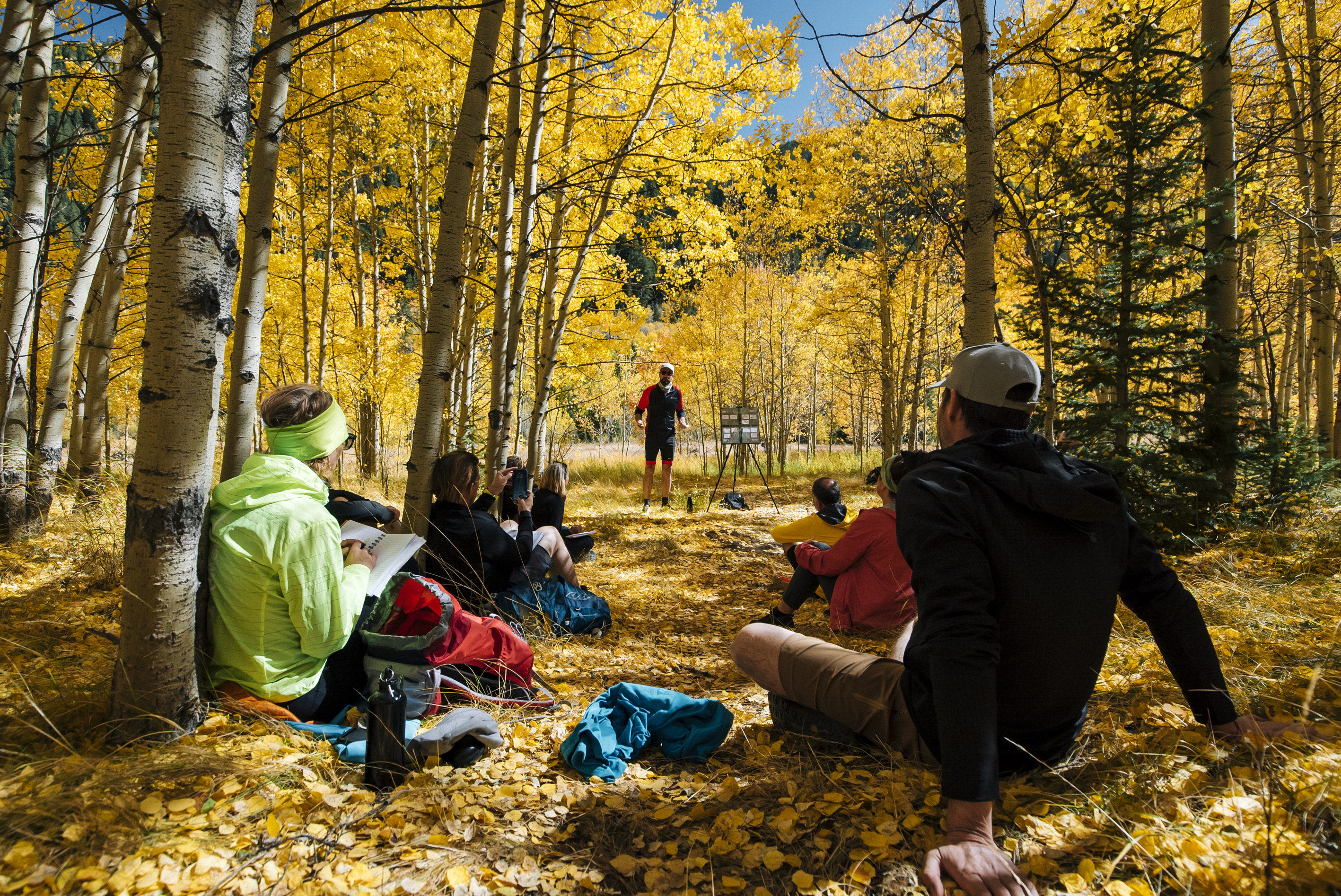 What's Included?
5 nights'

accommodation (ranging from camping, to lodges and hotels)

6 days

to build

meaningful relationships

for yourself and your business
Up to

20 x 30 minute discussions

2 expert-led workshops

to challenge your thinking
Gourmet meals and all beverages
Ground transfers upon airport arrival to departure
All activities during a

journey of a lifetime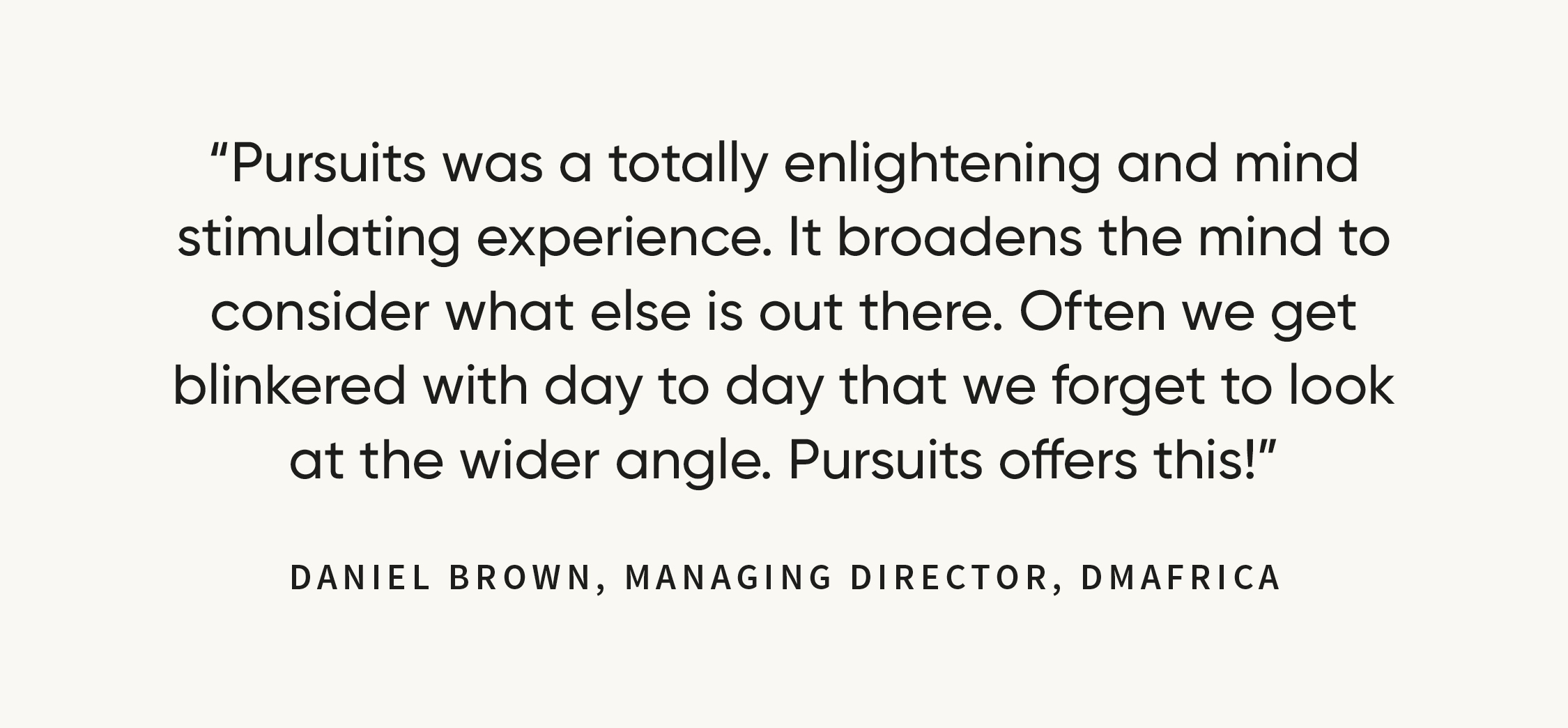 Past Pursuits
Australia 2020

Beyond The Beaches

The Australia Pursuit brought together a group of senior visionaries within the industry at a critical time for us all, in March 2020. It provided an incredible landscape to discuss and workshop the current landscape and provided invaluable learnings for everyone to move forward with in their businesses. It proved – as we all know – that we are #allinthistogether.

Colorado 2019

Into the Mountain Pass

Perfectly timed as the leaves started to turn, our group of industry leaders journeyed through the mighty peaks of Colorado. We cycled, rafted and hiked along the way, including the once in a lifetime hike from Aspen to Crested Butte. Along the way there were expert-led workshops as well as thought-provoking discussions from the Challengers.

Portugal 2019

Where the Stars Meet the Sky

The Portugal Pursuit took 18 Challengers deep into the untouched Alentejo region of Portugal where we slept under a dark sky reserve, hiked along Europe's largest lake and cycled through ancient olive groves. Along the way there were countless discussions and two guru-led workshops topped off with a hot air balloon ride over the region.

New Zealand 2019

Land of the Long White Cloud

The first Pursuit of 2019 saw our most global mix of Challengers yet converge in New Zealand: hiking Ben Lomond, rafting grade 4 rapids, cycling, jet boating and camping under the stars. Dynamic discussions and mentor-led workshops took place along the way, with incredible backdrops and in bright sunshine, before the guitars came out to wrap up each day.

Costa Rica 2018

Jungle Out There

The final Pursuit of 2018 saw challengers joining forces to hike through puma-populated jungles, raft down 20km of grade 4 rapids, cycle, climb and swim through some of the most remote and magnificent parts of Costa Rica. Along the way, we had Discussions and Workshops in some of our most incredible locations to date on any Pursuit including a thermal hot spring and in the ocean while the sun set. Pura vida!

Puglia 2018

La Dolce Vita

The second Pursuit of 2018 saw our global group of challengers live La Dolce Vita, winding through the sun-baked Puglia countryside on foot, by bike and even vintage car. With days punctuated by burrata making, afternoon hikes and candlelit dinners in ancient caves, the discussions and workshops that followed were among our most productive (and provocative) to date.

Norway 2018

Land of the Midnight Sun

The first Pursuit of 2018 took our most global group of challengers to date to the land of the midnight sun where they kayaked, cycled and ski toured their way through Norway, all the while pushing themselves and their businesses forward together.

Idaho 2017

Frontier Thinking

Our next group of challengers journeyed into the vast terrain of America's Wild West, floating off-grid down the Salmon River and swapping WiFi connection for personal connection.

Iceland 2016

Fire and Ice

The inaugural Pursuit took the first brave group of challengers to the land of fire and ice: Iceland, as they touched base off-road, hit the ground ski-dooing, took the dive into the blue sea thinking and got (their ice-axes) stuck into new ideas.